ClipTip™ Filtered Pipette Tips ClipTip 1250, Filter-Nachfüllpackung,...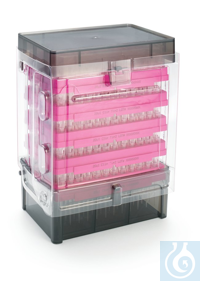 Die Abbildung kann abweichen und Zubehör enthalten, das sich nicht im Lieferumfang dieses Artikels befindet.
Bestell-Nr.: 94420818
77,10 €
für 768 Stück zzgl. gesetzl. MwSt. (19%) zzgl. Versandkosten
ClipTip™ Filtered Pipette Tips
Ensure a secure seal for every sample. Thermo Scientific™ ClipTip™ Pipette Tips provide a secure seal for every sample with a unique and innovative interlocking technology that ensures a complete seal on every channel with minimal tip attachment and ejection force. Achieve newfound confidence knowing that once attached, your tips are locked firmly in place, and will not loosen or fall off regardless of application pressure. The innovative three interlocking clip design ensures the tip is held securely on the F1-ClipTip pipette until — and only until — it is released.
Key Features:
ClipTip pipette tips feature 'clips' that lock tips in place and forms a complete seal
Each time ClipTip pipette tips are on, they are sealed and will not loosen regardless of application pressure
ClipTip tip is clipped securely on the F1-ClipTip pipette with a light touch by eliminating the frustration of banging tips on your pipette
Low retention
Every ClipTip pipette tip utilizes low retention technology to enable maximium sample recover
Proven quality
Certified free of RNase, DNase, DNA, ATP and endotoxin contamination
Environmentally responsible
ClipTip reload system uses recycled components and 30% less plastic
Versatile Tip Range
Choose from five sizes: 20, 50, 200, 300 and 1000μL
Immediate traceability
Each tip insert has ink-jetted lot and volume information; the convenient color key makes it easy to match the color of the F1-ClipTip pipette plunger cap with the corresponding ClipTip pipette tip rack insert
Note:
Availability may vary by country.
Bezeichnung: ClipTip 1250, Filter-Nachfüllpackung, steril
Volumen (metrisch): 1250 μ l
die nach: Ja
Farbe.: Türkis
Farbcode: Turquoise
Modell.: ClipTip 1250
Länge (angloamerikanisch): = 4.06 in.
Länge (metrisch): 10.3 cm
Zur Verwendung mit (Geräte): Thermo┬áScientific F1-ClipTip Manuelle Pipette
Produktlinie: ClipTip
Kompatibilität: Thermo Scientific™ E1-ClipTip
Kompatibilität: Thermo Scientific™ F1-ClipTip
Format: Refill
mehr
(-) Technische Daten:
Länge:
103 mm
Konfektionierung:
Box
Filter vorhanden:
Ja
Sterilität:
Ja